LATEST STATISTICS
| Uploads last 10 days | Uploads | Average |
| --- | --- | --- |
| 2023-09-22 | 2375 | 1853 |
| 2023-09-23 | 2031 | 1854 |
| 2023-09-24 | 1578 | 1854 |
| 2023-09-25 | 1230 | 1854 |
| 2023-09-26 | 1786 | 1855 |
| 2023-09-27 | 1363 | 1855 |
| 2023-09-28 | 2440 | 1856 |
| 2023-09-29 | 2335 | 1856 |
| 2023-09-30 | 1722 | 1856 |
| 2023-10-01 | 757 | 1857 |
NEWS
srrGUI v1.3 - 9 June 2020
Download srrGUI v1.3
IPFS mirror: https://cloudflare-ipfs.com/ipfs/QmXVeUAiMcwnRBBstg5xmoFki6GdqD2oARBTaTbHbGY5mJ?filename=srrgui-1.3.zip
By Gfy on 2020-06-10 01:46:48
INFO
IRC
Join us at IRC:
irc://irc.efnet.org/srrxxx
or use our
chat widget
!
---
The srrXXX release lister plugin!
We have created a few really useful scripts for you to add to your browser, which will list releases for a specific movie, tv-series or something else, when browsing imdb.com.
The scripts/plugins are Tampermonkey/Greasemonkey compatible and works in most modern browsers.
They can be found at
github.com/srrDB/srrextra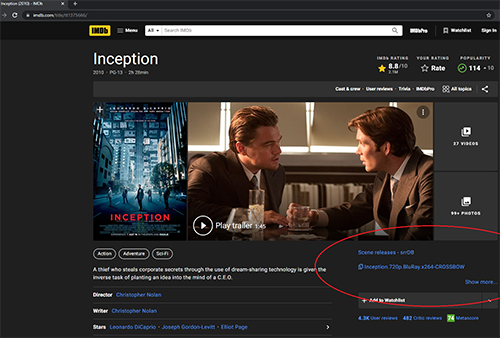 POLL
You must login to see the poll.